The Walking Dead: A New Frontier is the 3rd season of telltale's current run of the popular franchise. It's more of a choose your own adventure style goosebumps book than it is a zombie game, but your choices and its effect on the story is captivating enough to keep you pressing buttons occasionally to see how it all pans out. Luckily you do not need to have played the first two seasons to jump right in.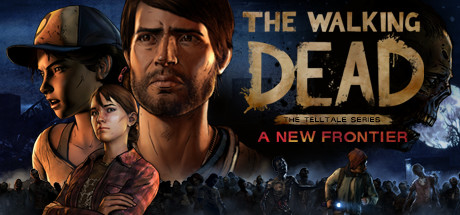 You play as Javier, a disgraced baseball player with a complicated family history. After they're split up during the outbreak, Javier must step up to protect his brother's family. While on the road you have a run in with a group called The New Frontier and things escalate pretty quickly.
Like the show it's more about the people than the zombies. It is your responsibility to make split second decisions that alter the course of your journey, fostering relationships and deciding who gets to live or die. Each choice has weight that Javier must carry, and outcomes he must face. Plus you get to smash some skulls along the way. Fun stuff!
Beginning Tuesday, May 30th, players can download Episode 5: 'From the Gallows' on PlayStation 4, Xbox One, PC/Steam, iOS, and Android-based devices. The episode will also download for all users of the special Season Pass disc for consoles, which includes the critically acclaimed two-part premiere episode and grants access to all subsequent episodes in the five-episode season for download as they become available.