On September 21st, the lovely ladies of Street Fighter, from Chun-li to Juri show off their favorite swimwear in this comic-sized one-shot pin-up special.
But this isn't just about the ladies in skimpy swimsuits. Ryu and Vega hit the water too! And let's not forget my favorite illustration in the entire premiere issue, a super cute Sakura burying E-Honda in the sand!
While I think this book will probably be coveted by the younger male crowd, any fans of the Street Fighter franchise will get a kick out of it. Imagine Sports Illustrated style bikini issues and this is what you'll get.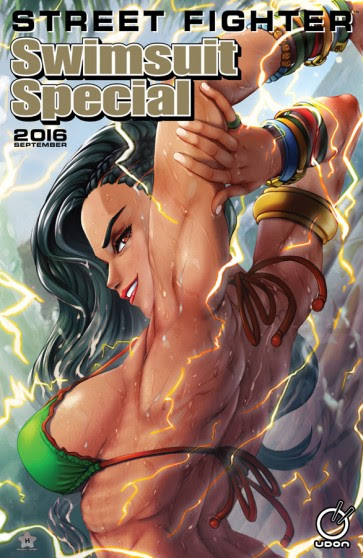 Bringing this gallery of fun and flirtatious artwork to life are top UDON artists like Genzoman, Edwin Huang, Rob Porter, Jeffrey Cruz, Steven Cummings, and Long Vo. Plus the UDON crew is joined by a bevy of guest artists like Gisèle Lagacé (Ménage à 3), Xa (Wakfu), Vincenzo Cucca (Pandamonia), and more!
This issue features two standard covers by artists Ecchi-Star (CVR A) and Aki Lee (CVR B), as well as a special Blank Sketch Cover (CVR C). Plus, artist Nei Ruffino provides a retailer incentive homage variant which calls back to the 90s origins of comic book pin-up specials.