I remember listening to the song "John Wayne Was a Nazi" about a decade after the single was initially released and I was so impressed with the style of hardcore, the unapologetic lyrics, and the distaste for anything KKK or Nazi related. At the time my brother and I had recently moved from Urban LA to Suburban Orange County, and there were Nazis everywhere, particularly in Huntington Beach and the surrounding areas. Nazi Skinheads would patrol the streets, curbing ethnic minorities and attending Youth Brigade shows in order to beat the shit out of peace punks.
That was the 90s. It's inspiring to see that MDC is still out there playing and touring, and that the singer/founder, Dave Dictor, has taken the time to write about the band's history.
Memoir from a Damaged Civilization isn't an exercise in literature, rather an easy-to-read play-by-play account of MDC's origins with insights into what moments in Dave's life helped shaped specific songs and political leanings. You get to follow him as a budding elementary school boy who loved to wear girl clothing to the days of being a singer in the Austin, Texas band The Stains (before they became MDC and then high tailed it out of Texas) playing with such bands as Black Flag and The Big Boys all the way to the new millennium where the band is still touring the world as strong as ever.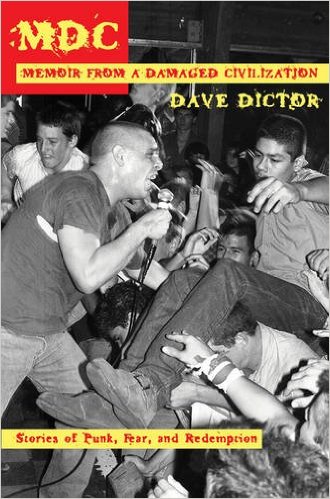 From the Epilogue, Dave writes, "Punk, to me, amounts to an agnst railing against the conformity of the status quo. I saw firsthand the ideals of the hippie world fail and turn against itself…That was my impetus to break free from corporate culture and fully submerge myself in punk." And his memoir details that story from his birth in 1955 to present day America.
This book is for fans of punk history, namely the story of bands in a pre-cell phone/pre-computer era. The chapters are brief, the stories insightful and oftentimes important in a peel-back-the-curtain way, and there's no need for a dictionary to be able to decipher what the hell he's talking about. It'll take you no more than a few days to read it, and that's if you've got a packed schedule.
Highly recommended.