October 27, 2017
I saw the show announcement late yesterday, via Dillinger Four's Instagram page:
I immediately looked up the Facebook event page, and started researching flights and Airbnb's in the area. I had seen the announcement that the fabled Triple Rock Social Club was going to be closing after 19 years, and I just KNEW that D4 was going to be playing the last show. But still, I kept it in the back of my mind. And then I found out it was for sure happening, and my animal instincts took over.
I've been a Dillinger Four fan ever since I discovered them on a Fat Wreck Chords compilation (Uncontrollable Fatulence VI) which included the song File Under "Adult Urban Contemporary". I was drawn in by Erik's raspy and raw vocals, and my love for them grew from there. They got me through my awkward and drunk teenage years to where I am today.  I nixed plans for a road trip to California, for the chance to see them in Chicago for their 21 year Anniversary mini tour. I bonded with an internet stranger on Vine (RIP) over our love for the band, and then met said stranger at Punk Rock Bowling to experience the magic together. (Shout out to this stranger turned friend, who is the reason I'm doing this article in the first place. Thanks Shahab!) I even made multiple vines of my own, with D4 as the soundtrack. My husband and I used Gainesville for the exit from our wedding ceremony ("Let's live it like we fuckin' mean it" just spoke to us…). Safe to say, D4 has played a pretty large role in my life, as well as my love for punk rock in general. Hell, I even have "D4" tattooed on the inside of my right middle finger, as well as "Check out my new dance, I call it the walk away…" on the sides of my feet. The lyrics, the sound, that hard hitting bass, the energy – it all comes together in a way that cannot be replicated by any other, in my humble opinion. I also find the fact that they still have an angelfire website that is still alive on the web today, highly endearing. (Here's that website in case you were curious…)
The Triple Rock Social Club was opened in 1998 by Gretchen and Erik Funk and has been a mainstay in the community ever since. It's been an important part of Minneapolis and the Midwest since it's inception, boasting a huge amount of bands, big and small, and always supporting the local talent. NOFX even have the song "Seeing Double at the Triple Rock", which is about being snowed in at the Triple Rock with "Paddy" Patrick Costello of Dillinger Four, even referencing his tattoo (how much art can you take?). So when I heard the Triple Rock Club was closing as of November 22nd, I was sad. I know, I've never been there, can't miss what you never experienced. BUT, it had always been on my bucket list. To not only go to the Triple Rock, but the ultimate bonus would be to see Dillinger Four, in their hometown, in their home-bar. Fucking magical. I was originally planning a road trip out east next year at some point, where I hoped to check at least one of the two items off of my list. Knowing that was no longer going to be a reality, was a bit of a blow. I still kept it in the back of my mind, I was holding onto a little bit of hope that things would just work out in my favor, fingers crossed of course.
When the show announcement popped up, a feeling came over me. One that said "If you miss this, you will regret it for the rest of your life". I have run into this feeling before. I am a huge Conan O'Brien fan. I had the chance to see him once, when he was touring after leaving the Tonight Show, doing acoustic sets and stand up. I passed on it, to perform in a burlesque show. Biggest regret of my fucking life. To this day, if I could change one thing, that's what it would be. So I'm pretty sure I HAVE to go. I logged onto Ticketfly, and right as the clock turned 11 (I am in mountain standard time) I lucked out snagging a ticket. In my research the night before, I found an Airbnb that is a short walk away, so I booked that immediately, and I'll be using a combination of Airmiles and credit cards to fund my broke-ass' way from Calgary to Minneapolis.
Fuck it, let's go 'cause we're not getting any younger.
November 8, 2017
The ticket came in the mail!! I'm one of those who prefers a physical ticket. I keep a collection of stubs, home printed tickets just aren't as fun to look back through, y'know? I've got my  Airbnb and flights booked, and I've found some suggestions on what I can see and do in Minneapolis on my super short trip there… but holy SHIT it's actually happening! I AM SO FUCKIN' PUMPED. This is going to be the best show of my life. Almost like a religious experience, this is my pilgrimage, to the homeland of D4. And I feel like I am going to where the music in my heart would call home.
Dillinger Four has gotten me through the best and worst days of my life. I still don't get sick of their songs. I've become more myself than I think I ever have been, more comfortable in my own skin, and D4 has been the soundtrack throughout. I'm slowly peeling back the layers to find my core, and this show in particular is going to be life changing, I just know it.
I might even order a double whiskey coke. Not sure I can stomach it with no ice though.
November 21, 2017
En route. It's fuckin' happening. See you soon, Minneapolis. I can't wait to rage.
Wrecktheplacefantastic.
November 22, 2017,
Well, it's over. But if a wild and crazy send off is what they wanted, they aced it.
I headed down to the Triple Rock for 6 pm, when the doors were opening. I was very nervous, for some reason. Perhaps it was being in an unfamiliar city, or feeling like people might be upset I got a ticket but had never been to the Triple Rock before, or maybe it's just because I didn't know one single person. But once I showed up, it felt like home. People were huddled in by the doors, since it was cold-as-fuck outside (I'm from Calgary. I get cold. But DAMN Minneapolis, you chilly!!) and not wanting to force my presence upon people I don't know, I stood along the side of the building. It wasn't long before a kind fellow invited everyone in to the area out of the wind. This guy didn't even have a ticket, he was one of many who had the unfortunate bad luck of they're computer just moving a bit too slow. I do hope he eventually got in. While waiting, I struck up a conversation with the guy behind me (shout out to Zach, thanks for being so cool!), since the doors were late opening, and it's always a bit weird to be standing around trying to blend in and and maybe seem like you belong. But from what I can gather, Minneapolis folks are kind, or at least that was my experience. I'm not sure I've ever felt so instantly accepted, even in my own city.
Once inside, I scoped the merch and checked out the space. Having never been in there before, I really wanted to take it all in. The Triple Rock looked like it was home, and it probably was for many people. Quirky signs everywhere, messages and names written on the bricks in the old bar, a no bullshit kind of vibe, but also just fiercely real and welcoming. I snagged a few posters and some t-shirts to quickly run back to my Airbnb before settling in for the night. No one wants to carry a poster around all night. And if I had, I don't think I'd even have a poster by the end of it. There were beer showers a-plenty, and I seemed to find a few without trying.
I'm gonna be real here. I have zero experience writing articles, and I have even less writing reviews of bands, so I'm not gonna pretend I'm some kind of connoisseur or even that I know what I am doing, because I definitely do not. Regardless, I'll try to paint a basic picture. A doodle. Simple, to the point.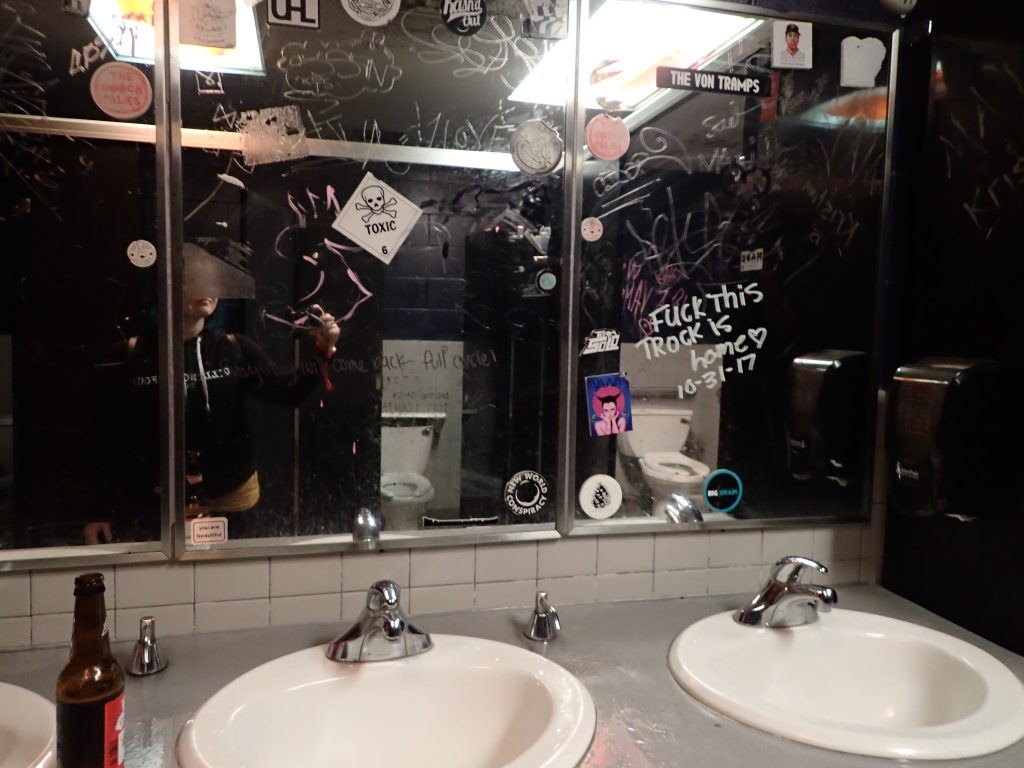 The Slow Death was up first. Reminiscent of that kind of gritty pop punk Midwest sound, they are in the same vein of bands Off With Their Heads and Dear Landlords. They had a sharp tongue and a sarcastic touch which I can always get behind (Prince wrote this next song for us). With people still coming through the doors, they played an energetic , short but sweet set. Up next was Victory, a Minneapolis based old school street punk oi band. Not being from the area, I was glad I had clarified beforehand with my new friend, as according to the Facebook event Victory looked to be some type of classic metal band from the 80's and I just wasn't quite sure how that would fit in the lineup. However I was pleasantly surprised when they started playing. Catchy riffs and hard hitting vocals shone through, and in between songs they told stories about their love of the Triple Rock and how upsetting it was to know this was the last set they would be playing on their stage. When signaled that they had only time for 2 more songs, their response was "fuck that, we're doing 8 more", and they completed the rest of their set. It was still early, there was still time, and the crowd welcomed their extended set. Kitten Forever was up next, and I was immediately drawn in by them. A Bratmobile sort of vibe going on, they are 3 women who equally share all roles in the band (drums, bass and vocals), switching places every few songs. One member wearing a shirt that said "men don't protect you anymore" many women (and men!) in the crowd were drawn to the front of the stage to show their support for this raw, loud, girl-rocking, middle fingers up performance.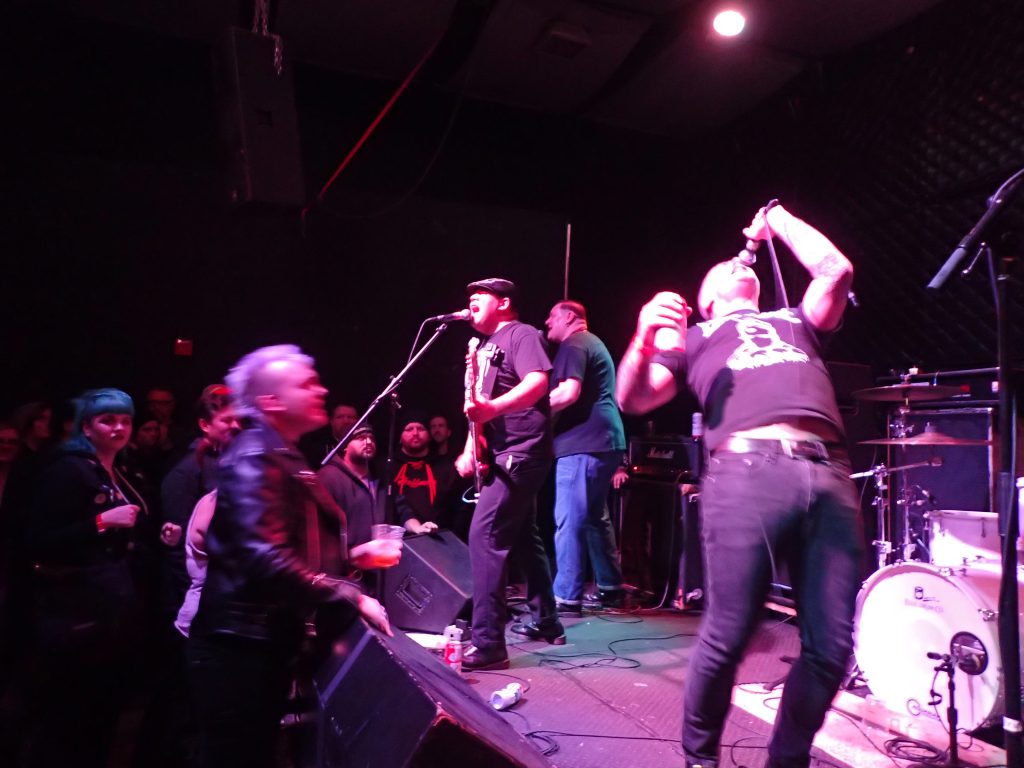 Between Kitten Forever and Negative Approach, Zach and I ventured over to the other side of the Triple Rock. Having never been here before, I wanted to get in all the experiences I could, and I wanted to do at least one shot. I wasn't able to commit to a whiskey (too many drunken teenage nights have ruined that one for me) but we settled on tequila and a shared seat at the packed bar. Good timing, because around the same time, the Brian Boru Irish Pipe band entered and marched through the old bar, and passed through to the stage side. People stood on their seats and sat at attention paying respect, and I watched as a blonde waitress behind the bar shed more than a few tears. I was really getting a feel for the people here and the history held in this building, and it was very apparent that this wasn't just any old bar closing its doors. This was an event to behold, to take part in, and to pay your respects for. This was home, not only to Erik and Gretchen, D4, staff and bands, but everyone who had found a refuge here from the outside world. I could see it on the faces of everyone there, this was no small loss. To lose your home is a painful thing. And this was home, to many. The Irish pipe band passed back through the bar side, through the crowd and out the front doors, and I am truly grateful to have been witness to that heart wrenching moment. As sad as it was, it was very formal and touching, and I believe it meant a lot to everybody there.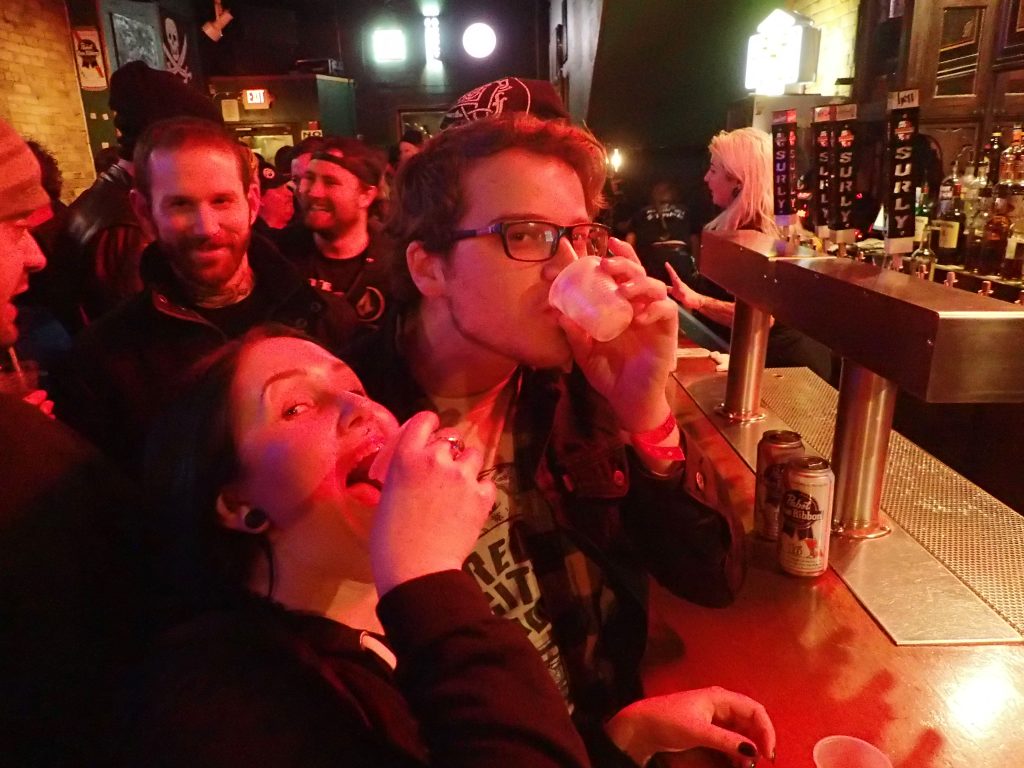 Back to bands, Negative Approach was up now. Based out of Detroit, and considered a true pioneer of hardcore punk, especially in the Midwest, their set was hard, fast and angry. The pit had slowly been building all night, and it was now in full swing. It was a wild and hard hitting set. At this point, it was time to take a quick washroom break, grab some beers and make my way down to as close to the stage I could get. The time had finally come, Dillinger Four was up next. I had built this moment up, and I was not disappointed (all of my photos were blurry because I was dancing so hard–sorry!!). They took their places on stage, said a few words about how they were expecting some Boston, and low and behold, More Than A Feeling comes on. Everyone sings and air guitars along and just takes a moment to drink it all in. Patrick adds in some commentary on the Triple Rock, perhaps slightly embellished. A story of how there just didn't seem to be a place where the people of Minneapolis could go to get black out and listen to Boston, but Erik and Gretchen had turned that all around. They kicked off the set with Noble Stabbings!!! and the magnificent sing along Super Powers Enable Me to Blend in with Machinery (fuck them alllllllllll!) I am sure I am biased, seeing as D4 is one of my favorite bands of all time, but every song, every story and every moment was fucking perfect. I heard all of my favorites (D4 Putting the F back in Art, Maximum Piss and Vinegar, Gainesville) and even more of my favorites until I was just hoping they'd play every song they had and that the night would never end. I had my new pals Zach and Mitch to run my voice raw with, singing at the top of my lungs. The set was perfect, emotions were high, and even Har Mar Superstar made it in for a good old fashioned crowd surf. The set was over by about 12:30, which gave the crowd just over an hour to finish off what booze was still available and enjoy their last few moments with the Triple Rock, staff and friends.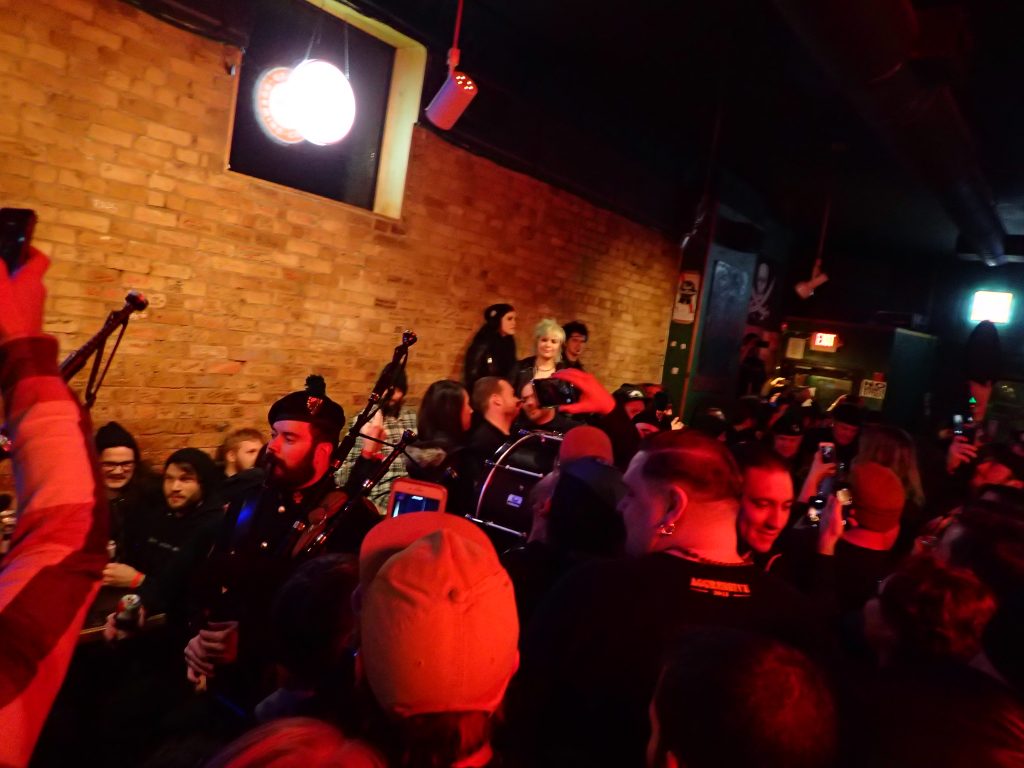 Although I was not at the Triple Rock on November 20th (the day before the final show) I had been keeping tabs on what was happening. They hosted a free night, advertised as a dance party, but Dillinger Four played a set that night as well. With the power of YouTube, you can catch a nearly 20 minute clip of the night, and I feel it is important to mention that here. Tigger got up to say a few words, a sort of eulogy, and this quote really stuck out to me; "these things are what we as people really make of it, and the special thing about the Triple Rock, is that this is something that has been made by every single person here, to some degree." And that I think, is the defining quality here, and why so many people and bands were drawn to this place. It was home because you all MADE it home. And one day, there will be another place you can call home. Not a direct replacement, but you will make it what you need it to be. "We are the force to bring another day, we are the order in the disarray, we are forgiveness and we are love, we are the sword and we are the dove. And if this thing stops breathing, and if this thing blew up today, we did it our way. " – Dillinger Four, Music is None of our Business
RIP Triple Rock Social Club, 1998-2017